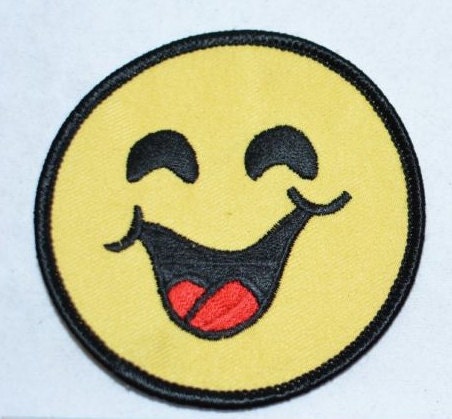 Why is he so happy?  He found out we're running a sale for the entire month of November!
That's right.  Every one of our nearly 2000 patches, vintage or new, are on-sale for the next month.
Browse though biker patches, military patches, funny patches, "naughty" patches.  Whatever floats your boat... load them up in your cart and enter coupon code "BlackFriday" to receive 15% off your entire purchase of $30 or more.
Can't sew?  That's FINE.  We have plenty of iron-on patches as well to make it even easier to dress out your favorite shirt, vest, jacket or handbag (or whatever) with some seriously styling patches.
We love our customers at AwesomePatch.com and wanted to give you guys an extended period to browse though our massive inventory rather than just one weekend after you've gorged yourself silly with turkey and stuffing.  (Of course you can shop then TOO, but might as well get a head.  Happy shopping!
Keith & Patricia